Officially unofficial
VIP Supporter
Joined

Apr 16, 2016
Messages

1,577
Reaction score

360
Points

2,255
Location
So everyone else has some kind of build log and since I never get anything done here is mine.
Hopefully this will be an ongoing thing and not just once off.
Over the past while I have gathered some old components and picked up a few new ones from people over the past while so I can "build" and hand wire my own keyboards
By the end I am hoping to create a custom minimalistic board with custom pcb, case and keycaps.
For now though I am Stealing everything I can from other boards and making a Frankenstein board out of the graveyard that is growing in my room.
Day 1:
Desoldering a old Razer board to steal the keycaps and switches. (Yes I forgot to take more and better Quality pictures)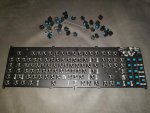 If anyone is going to do this in the future make sure you have everything you need first.
Day 2: (YES I WILL CLEAN THEM SOON)
Use another 10 keyless board I have lying around and destroy it!!!
In sort cut the F row and arrows off and made a 60% keyboard.
Making a huge mess everywhere and not cutting very straight decided to paint it black quickly add some switches use some really dirty keycaps and other doubleshot caps and I am left with this: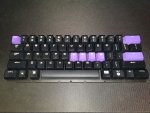 Since Razer doesnt seem to conform to standards none of the caps or stabilizers are interchangeable I am Stuck stealing some keycaps from my Ducky Keyboard (Ie space and purple keys) to get everything to work. Thus there are funny gaps and a missing Alt. (Not that I am wanting to use the alt but it now annoys me that there is a gap in the spacing now)
Hopefully soon I can start wiring!!!