Joined

Nov 17, 2010
Messages

3,531
Reaction score

1,444
Points

4,135
Location
Based on the carb review ... Which I can't reply to
So as an iPhone user and having had pretty much all the iPhone models since say the iPhone 5s (or was it 6)... What do I think of the Samsung note and android ?
The short of it ... It's a great phone
Battery life has been amazing. With normal usage seeing my battery at 50% by like 6pm and on a heavy day before I sleep it will be on 20%. I've never run out of battery. (Currently set to adaptive battery and despite it moving between optimised and medium I have not noticed a difference in my user experience )
The screen ... Oh my ... It's beautiful. It's massive. (That's what she said
). The picture quality and experience rivals my Samsung Q9FN television. Watching HDR content is breathtaking as the screen can get very bright (saw a review complaining about the screen brightness ... guess that was an apple sponsored review). On a smaller phone I'd only watch video content if I really had to. With this phone I look forward to it ... So I'd take the big screen experience over it fitting uncomfortably in my pocket
And on the size question. It's a big phone and its size for me only becomes an issue when trying to slip it into my skinny pants
. But when using it ... I love the size. I do type better on this phone then I have on my iPhone X because the keyboard is bigger. For bigger hands a bigger phone is definitely welcomed. And if that size does bother you well then don't get the plus or max model ... But absolutely agree that Samsung should have had the same spec for spec sheet for their note 10 like they do for their 10+ (this is a cue from Apple Samsung should have taken)
So what else is good ? The camera is great and like I've said before I was happy with the iPhone X camera and all high end cameras these days are great. If you really into photography get a dslr. The ergonomics of the phone is also great and holding it in the hand with the Samsung leather case is comfortable. The weight of the phone is also great where it's not heavy like an iPhone. My biggest fear was a bloated android OS and I'm happy to see a very almost pure android OS experience.
The phone is quick enough (again all high end phones are fast) and with the big ram it has, having multiple things open be it apps or website tabs, the phone not once exhibited any signs of it being out of memory or slowing down where it needed to reload stuff. It's just been a great experience using the OS and Apple is usually king in this department due to the simplicity of iOS. I have kept things simple despite all this customisation as my finger tips. I do have a single screen with all my apps (akin to my iPhone screen
)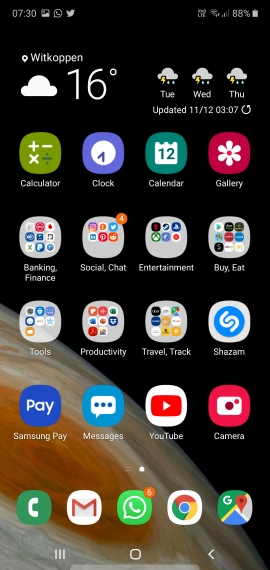 The s-pen honestly I do not use as much. But it has proven handy for annotating pictures. Being busy with home renovations you always have a need to measure stuff and send pics to contractors so it's proven useful here and with signing of documents as well. Outside of this ... Nah. And truthfully if the s-pen wasn't there I wouldn't miss it all together ... It's useful but not a deal breaker.
The other feature I saw myself using more often is Google assistant. It has been more accurate and natural to use than Siri. Setting calendar reminders or going "hey Google call my sister" has been a more "natural" experience
Phone voice quality is great. And Samsung pay ... Boy or boy. This stuff works with machines that have tap and that also don't have tap ... And it's been flawless. Only issue is the merchant not believing me and then allowing me to let it work its magic, only for them to go "technologeee
"
So the bad then ?
Everytime I thought there was something lacking on the phone there was a setting that fixed it ... Take a screenshot and having the ability to discard it once shared? ... Like the iPhone does ... Well there is a setting for that. Btw I love the idea of swiping my palm across the screen to take screenshots versus hitting a combo with the volume power buttons.
WiFi holding onto weak signals. There is a also a setting for that (albeit under developer options). And even when I thought the in-screen finger print sensor was horrible. There was a YouTube video showing exactly the best way to register your fingerprint and now I have no issues at all with it. And if it did fail (which now it does not) there is face recognition.
Here is that video btw to improve fingerprint recognition ... Highly recommend people following this
But that made me realise this about android. Chances are there is a setting that can fix what ever issue you think you might have or that's missing. The carb review complaining about making a call. I honestly have not noticed the issue with the dialler or it being a frustration. Maybe cause I was use to such on the iPhone. But honestly this is a niggle. Clicking on the contact and then the dial icon. The notification sound (was it?) when making a call? I honestly don't have that ... Never did.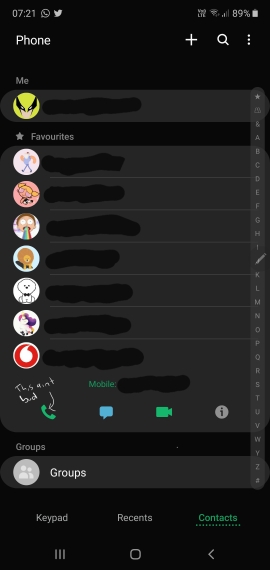 So my main gripe with this phone is not even one about the actual phone itself. It's the availability of a decent screen protector. The one preinstalled with the phone will scratch up easy after a short time and finding one that is decent is a problem and this is because of that curved screen. So currently have a gel type from 3sixty and it's ok. Would prefer glass but it will do for now.
The build quality is good but slightly shy of apples microscopic attention to detail. To see how this phone will fair with use, time will tell as I doubt aluminium will be good as stainless steel.
In the end I thought moving to android would be painful and truthfully I am happy with the note 10+ ... A phone should in my opinion be there to ultimately communicate effectively be it using voice or data and the only time it should be noticed is when it becomes a nuisance or frustrates when using it and not doing what you need it to do. And thus far it's been a trustworthy assistant for me. Yes no phone today has been evolutionary and we hitting that cusp of makers having a phone do most of our daily chores short of making coffee and it's becoming increasingly difficult for them to innovate. Do you need a note 10+ or iPhone 11 or mate 30 pro etc ... No you don't and for a few generations now phones have been great. The Note 10+ is an iterative enhancement but does not take away from it being a great piece of tech