Samsung keeps at it. With a behind-screen camera in development and talks of a new foldable phone, the S10 looks to be an interesting addition to their lineup.
Following the likes of Apple, Samsung is looking at expanding their specific model offering, something that hasn't been done in a while. We all remember the slightly cheaper "mini" models that were released in years past. They were smaller, less-specced versions of the bigger phone, at a more affordable price. Samsung has stopped this since the S5 Mini, after which the A series seems to have taken up this space.
However, this might be returning with the S10. Not the Mini naming convention, nor the physically smaller phones per se, but at least in specs the S10 will offer more choice. Codenamed "Beyond", it is clear that Samsung has big plans for this model series. They seem to be aiming at a wider market, with triple cameras on the rear of the phone and it may even have the under-screen camera on the front as mentioned earlier (no notch - YAY!). The OLED screen will be curved on both sides, with a very narrow bezel both top and bottom. The fingerprint sensor will be under the display as well.
Model lineup so far looks like it'll include a "Plus" version, which will be larger than the standard S9-sized model, as well as a cheaper model without the curved screen (actually something I'm looking forward to) and fingerprint sensor and there might also be a model without a headphone jack (for some stupid reason).
To top it off, they're aiming to include 5G capabilities. All seems good on paper, right? It would seem so, yes.
Now we're just looking forward to hear from them on the folding-phone front. According to Samsung's CEO DJ Koh, they're also working on a folding device, codenamed "Winner", that will be a tablet with multitasking capabilities, which will be "really meaningful to the customer".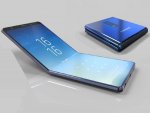 I, for one, am looking forward to these developments. It seems at least like Samsung is listening to their customers. I'm a bit of a Samsung fanboy, I'll admit, but of late I've been slightly disappointed to see the likes of Huawei do the same, if not better, for less money. Makes it hard to keep the fanboyism up, to be honest. Time will tell which way I'll swing in the next year or two.