Make/Brand: KTM 990 Adventure
Color: Orange
Year: 2008
Odometer reading: 47,750km
Warranty: 6 months left on an aftermarket warranty I bought, but I don't think it's transferable.
Service history: Full with the dealers
Condition: Really good. See detailed list below.
Extras: Many. See detailed list below.
Location: Parkhurst, JHB
Delivery available: 100km radius from JHB
Price/including fees: R65 000
Any major accidents etc: Accident free. Just the usual scuffs from off-road riding.
There are extras in the pics that are not included in the sale. If it's not listed below, it's not included.
Extras/Notes:
• Leo Vince SBK pipes (with the db-killer inserts)
• Crash bars (standard)
• Scotts Steering Damper
• Bar raisers
• Orange headlight cover
• Dual USB power point fitted inside centre cubby
• LED spots
• 990R spec smoked tail light
• KTM OEM LED indicators with correct relay
• Orange plastic frame protectors
• Heated grips
• Air Time fork bleeders (Original screws included)
• Air Time off-road pegs
• Water pump replaced at 36500km
• Rear shock just serviced by SuperFoxi
• Last service, fuel level sensor and complete throttle bodies replaced at 44000km (TPS & stepper failure)
• Chain & Sprockets have done less than 2000km. Front sprocket is a 15T (-1). Front & back are KTM OEM parts.
• Front tyre 30% left, rear tyre 50% left
• Heavy duty tubes + slime front & rear.
• All documentation, service book, spare key, Scotts manual etc included with full service history at Rad.
Snag List:
• Rear brake disk needs replacing. Front pads & disks still good.
• Side panel scratch (pics)
• Peculiar KTM sticker over the front-right panel, behind spotlight. Was there when I bought it. Might be covering delamination. (pics)
• Minor scuffs on hand guards and crash bars
And now the pretty part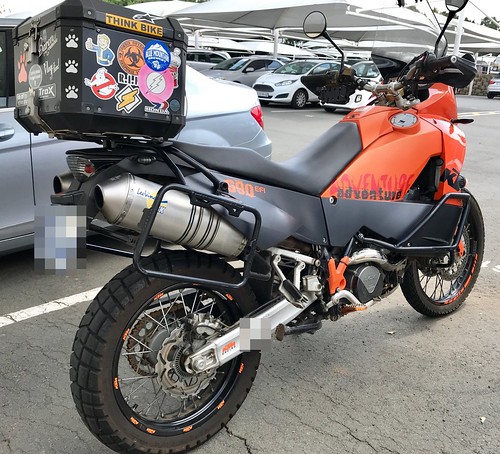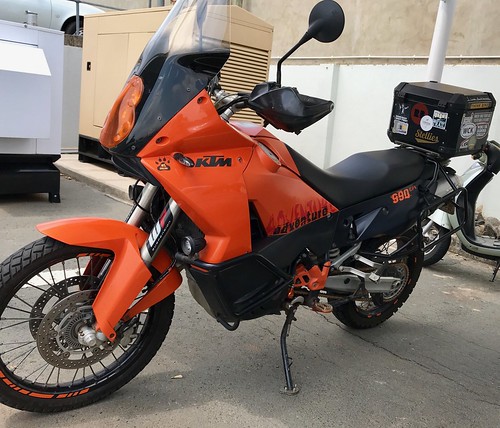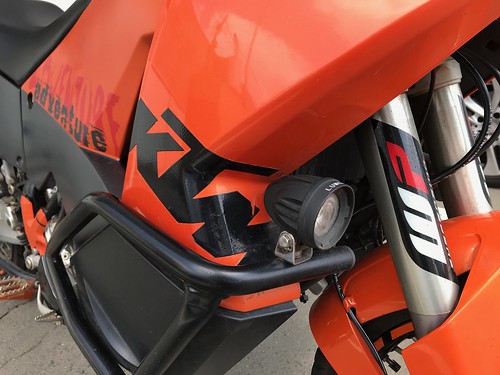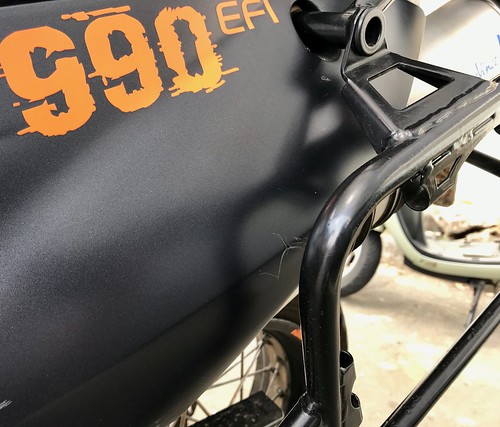 Last edited: