Item: Voopoo Drag Mini With uForce T2 Starter - Color is Coral
Age: 18 January 2019
Price: R900
Warranty: Not sure, bought it from Takealot.
Packaging: Yes, box and everything.
Condition: Excellent, barely used
Location: JHB
Reason: Monkey see monkey do.. Everybody is vaping, thought so would I..
Shipping: Your risk + expense
Collection: Preferred
Link:
FREE DELIVERY on orders R450+ · Safe, secure ways to pay · Shop anything you can imagine: TVs, laptops, cellphones, kitchen appliances, toys, books, beauty and more · Shop the mobile app anytime, anywhere
www.takealot.com
The VOOPOO DRAG Mini 117W TC Starter Kit is the perfect mid-level wattage vape system, integrated integrated with a built-in 4400mAh battery and the exceptional GENE Fit Chip for battery-efficient outputs. Available in PLATINUM EDITION.
www.elementvape.com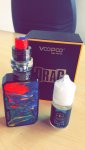 FYI
--------
Last edited: