Item: Seagate 8TB Backup Plus Desktop Hard Drive Hub
Age: Makro Order date: 2018-05-21
Price: R2500
Warranty: Remainder of 2 years
Packaging: Original
Condition: Like New
Location: Fourways, JHB
Reason: I don't need an external hdd anymore, want to switch to an internal drive*
(also external drives run a bit hotter than internals especially when in use - check the hds report below)
Shipping: Included, Postnet / TCG
Collection: Yes, Always preferred and safer.
Link:
SEAGATE 8 TB Backup Plus Desktop Hard Drive Hub - Lowest Prices & Specials Online | Makro
*feeler for now because need to get the replacement drive and transfer the files first. Will keep on hold and only accept payment after files are transferred and this drive is ready to go.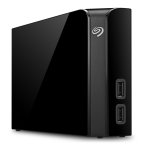 *image from makro website

*Temps are usually in the 30s or below during idle at night. mid to high 30s idle in day. 40s under load.

idle. early morning
Last edited: