Nvidia's new RTX series made news all over and raised expectations for the brand long before it was released. Gamers were excited and miners were hopeful. Everyone had an opinion on launch dates, apparent benchmarks were "leaked" and people were just about to throw punches about misinformation and opinions being spread as fact. After launch though, it seems like Nvidia might have made a bit of a mistake.
The cards certainly didn't live up to the hype. We were all excited to see the actual performance of the cards that finally broke the GTX-naming cycle and from the internet we pulled information, how wrong it might even have been, that showed a "50% increase in performance". Gamers were expecting almost unrealistic increases in framerates which would have been extremely welcoming, but Nvidia failed to deliver.
The launch card, the RTX 2080, launched with a massive price tag, specially in South Africa and when it was revealed that performance is only marginally higher than the last flagship (GTX 1080Ti), hearts sank. Yes, it's more powerful, but at $500 more than the 1080Ti, is it worth it? People have been asking this question since launch, and it's starting to show. Nvidia's share prices have been slipping lately, and while it's already slightly recovering after the bigger dip, the latest price still is 1.52% in the red.
We're hoping the later drivers and updates will fix this, or maybe the prices of these cards will come down, or maybe the later RTX cards will turn it around for this new "family" of cards, but for now I'm not too excited. At the current exchange rate it looks like the RTX series of cards are a pipe dream for the budget gamer, and will remain as such for a while still.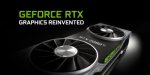 Last edited: