The Forum Hobbit
Staff member
Administrator
Joined

Apr 26, 2010
Messages

10,701
Points

3,635
Age

29
Location
Just Cause sees another return of black ops agent Rico Rodriguez with Just Cause 4, as he travels Solis in an attempt to find the truth about his past.
Solid is a fictional South American country and the setting for the Just Cause games. The map for Just Cause 4 is huge, weighing in at more than 1,024 square kilometers (assuming a perfect square, that's an area 32×32 kilometers).
The game will feature extreme weather conditions including severe thunder storms, and you can indeed be struck by lightning. There are no instant death events in Just Cause 4, encouraging players to be more creative with their gameplay, so a lightning strike will severely injure but not kill.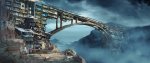 View attachment 27960

Just Cause 4 is set to release on 4 December for PC, Xbox One and PlayStation 4, and is
available for pre-order now
. It will feature three editions, with bonus content as follows:
Day One Edition
Full Game
Pre-Order Bonus
Digital Deluxe Edition
Full Game
Pre-Order Bonus
24H early access
Black Hand Prototype Weaponized Wingsuit
Black Hand Stealth Micro Jet
Gold Edition
Full Game
Pre-Order Bonus
24H early access
Black Hand Prototype Weaponized Wingsuit
Black Hand Stealth Micro Jet
Expansion Pass
Golden Gear Pack