Verified ASUS South Africa Profile
Premium Reseller
Joined

May 11, 2018
Messages

75
Reaction score

75
Points

635
Age

32
ROG does not mess around when it comes to RGB lighting. We've decked out everything from motherboards, graphics cards, and coolers to laptops, keyboards, and mice. After lighting up most of the hardware that goes inside your PC, a great many external peripherals, and then adding expansion through our
ROG Aura Terminal
, the next logical ROG creation was a case with its own optimizations for the Aura ecosystem. That's why we created the
ROG Strix Helios
. It features integrated lighting control, lots of room for illuminated fans, multiple graphics card placement options, and three tempered glass panels for showing off your collection of RGB-equipped hardware.
Bringing it all back home
The Strix Helios benefits from all the design language, creativity, and craftsmanship our ROG engineers have to offer and is perfect for showcasing ROG components and Aura lighting. The brushed aluminum chassis features side panels made of 4-mm thick tempered glass, and its front employs 3-mm tempered glass marked by glowing RGB ROG branding. The smoky hue of the glass cuts a bit of the lighting's glare, which makes it look even more dramatic.
Getting creative
It isn't easy to build a gaming PC full of high-end hardware and hide all the cables connecting its comprising parts. The right side of our Strix Helios features a translucent cable cover that helps tame some of the clutter you'd otherwise have to pinch between the motherboard tray and case panel, all while letting your lighting shine through. It's a classy touch, and one of the many builder-centric innovations baked into the Strix Helios.
The aforementioned multifunction cover on the chassis' left side does more than house an ROG Aura Terminal hub. If your motherboard has enough headers for all your Aura-capable devices, and you don't need to install a Terminal, the cover can instead hide extraneous cables or accommodate an SSD. By default, it's positioned for ATX motherboards, but the cover is adjustable in case you want to install a larger EATX board. It even integrates GPU braces to prop up heavy graphics cards and keep them from sagging in their PCI Express slots.
Room for eight PCIe expansion slots means the Strix Helios fits up to three high-end graphics cards stacked on top of each other. Alternatively, you can use a riser cable, rotate the cards 90 degrees, and mount them vertically side by side. There is enough space for two add-in cards and plenty of airflow between them in that configuration. Compatible NVIDIA GeForce cards would be mounted parallelly and joined by an optional
ROG SLI HB bridge
over their tops for multi-GPU support.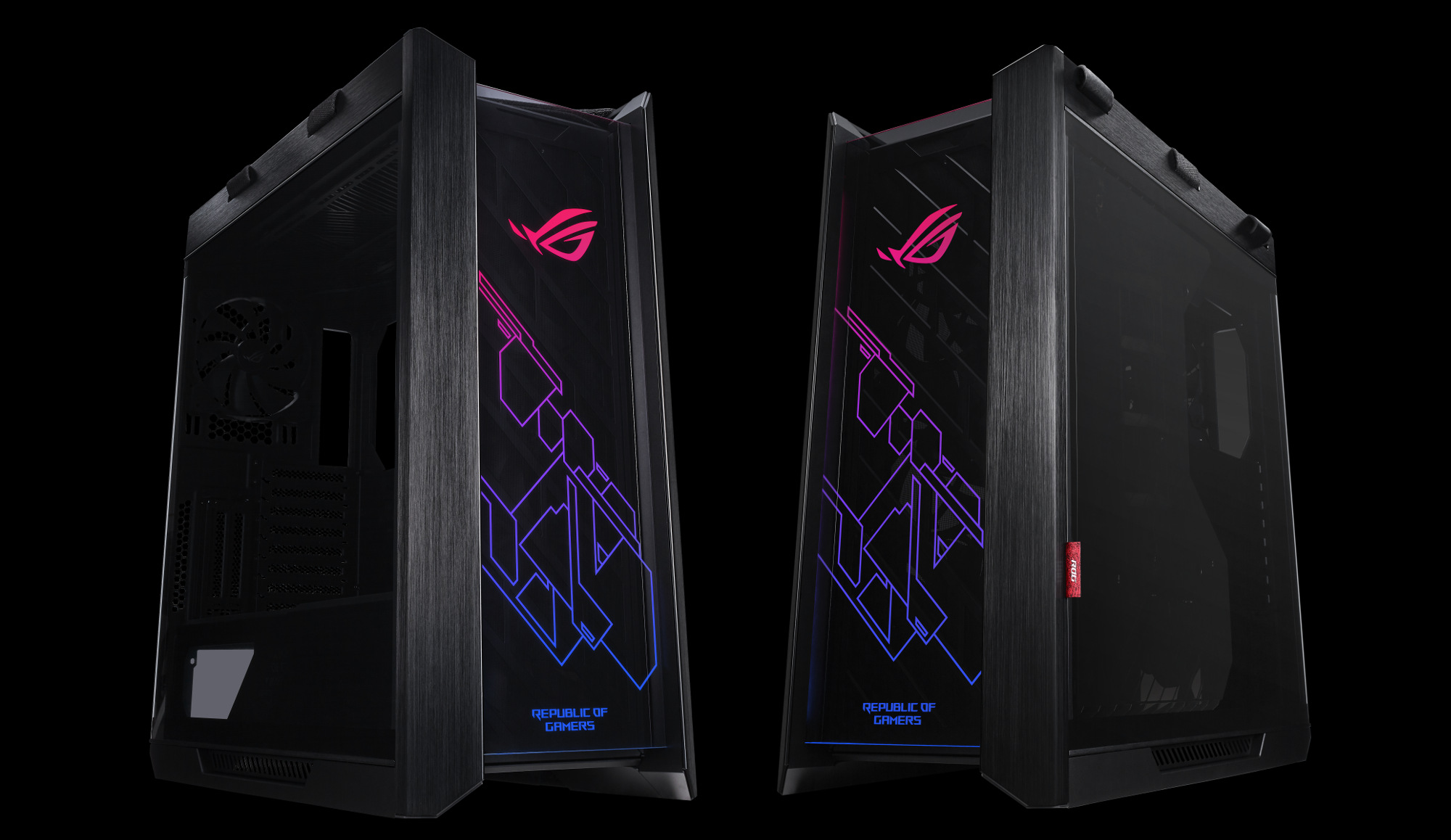 Total control
Beyond the flexibility afforded by its interior construction and special add-on parts, the Strix Helios gives you unprecedented control over RGB lighting and fan speeds through a veritable control panel up front.
A multi-function LED button turns the lighting on and off, switches between effects, and restores the default settings depending on how long you press it. Toggle between Static, Breathing, Strobing, or Rainbow modes, and choose from eight different colors. If you'd prefer something a little more complex, you can use our Aura Sync software to control the case's lighting instead. The panel up front also hosts four USB 3.1 Gen1 Type-A ports, a USB Type-C Gen 2 port, headphone and mic inputs, a power button, and a reset button.
A hub built into the Strix Helios powers up to six case fans, including up to three on the front panel and three more along the top. By default, the controller spins the fans slowly to minimize noise, but you can toggle them to high speed for improved cooling at the touch of a button. Small LEDs indicate whether you're in Low or High mode, so you'll be able to tell at a glance and switch on the fly.
Chilling out
All those fans pull a lot of air in and exhaust it out, keeping the ambient temperature inside of your gaming PC as low as possible. No matter how clean you keep your gaming room, though, dust is a potential pollutant you simply cannot avoid. So, we filled the Strix Helios with removable filters that make it easy to trap dust before it finds its way into your fans and heat sinks. Three of them populate the top, front, and bottom of the case. The filters are enormous; they're almost the same size as the panels they're mounted on, and you can easily remove them when it's time for some spring PC cleaning.
If air cooling doesn't cut it for you, the Strix Helio has extensive support for liquid coolers. We primed it for water reservoirs and pumps by getting creative with the PSU shroud. In keeping with the overall aesthetic, a cut-out ensures that PSUs equipped with LED lighting, like the ROG Thor, will still be visible. The shroud is also in two pieces, allowing you to remove one and replace it with a bundled pump bracket.
From there, you have several options for installing a radiator. The back panel can take radiators as large as 140 mm long, while the top accommodates up to 360 mm radiators. If you want to go all-out, slap a 420 mm radiator on the front panel and hang three 140 mm fans from it.
The Strix Helios' brackets make installing fans and radiators a breeze. There's one for the top of the chassis and one for the front panel. Fumbling around inside of a case with a headlamp, screwdriver, and hands that are too big to fit is no fun. Instead, pull the brackets out, attach your radiator and fans, and slide the assembly back into place.
ROG Strix Helios
Motherboard Compatibility
EATX (up to 12" x 10.9"), ATX, Micro-ATX, Mini-ITX
I/O
1 x USB 3.1 Gen2 Type-C
4 x USB 3.1 Gen1
1 x Headphone
1 x Microphone
LED lighting control buttons
Fan speed control buttons
3.5" / 2.5" Drive Bays
2
2.5" Dive Bays
4 (up to 9)
Expansion Slots
8 x Horizontal PCIe
2 x Vertical PCIe
*Fitted bracket for two vertical GPUs
Maximum GPU Length
450 mm
Maximum CPU Cooler Height
190 mm
Maximum PSU Length
220 mm
Radiator Compatibility
Front: 120 mm, 140 mm, 240 mm, 280 mm, 360 mm, 420 mm
Top: 120 mm, 140 mm, 240 mm, 280 mm, 360 mm
Rear: 120 mm, 140 mm
Cooling Support
Front: 3 x 140 mm / 3 x 120 mm (radiator + fan thickness: Max. 90 mm)
Top: 2 x 140 mm / 3 x 120 mm (radiator + fan thickness: Max 60 mm)
Rear: 1 x 140 mm / 1 x 120 mm
Pre-installed Fans
Front: 3 x 140 mm
Rear: 1 x 140 mm
Removable Dust Filters
Front: Slide-out
Top: Slide-out
Bottom: Slide-out
Cable Routing
Maximum 33 mm
Dimensions (W x H x D)
250mm (W) x 591mm (H) x 565 (D)
Weight
18 kg
Material
Aluminum, Steel, Tempered Glass, ABS Plastic
High time
Our ROG Strix Helios is the missing link between Aura-capable components plugged into your motherboard and the RGB LED-equipped peripherals outside of your PC. Our pre-built systems have long been known for their unique style and stunning looks, but the Strix Helios is the first case designed for enthusiasts building their own machines. It's perfect for an all-ROG setup armed with liquid cooling, RGB lighting, and the highest-end components you can get your hands on. Check with an ROG representative for details on local pricing and availability
Product Page:
ROG Strix Helios | ROG - Republic Of Gamers | ASUS Global