So I received a Telefunken TT100 from my neighbour in a horrid state, cleaned her up and under all the dust on the cover, I believe I found a little gem. I've always wanted to own a turntable, buying records as I come across them but never being able to play them. I wanted to get something like a Marantz TT5005 as an entry but it just never got high enough on the expense list.
Nevertheless, I now have a semi-decent one by the looks of Google searches. It's basically a rebranded Technics from 1980-something with a Audio Technica cartridge. The plan is to rebuild her to look like this: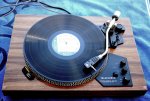 The sound is okay, not that spectacular to be honest. What I have to test is ZZ Top, Judas Priest and AC/DC. I'm using it with the built-in phono-stage of my old Marantz amp coupled with B&W speakers. I feel like the sound is much more flat compared to digital copies. Being new to the tt world I have no idea what causes this, perhaps the cartridge? Or the phono-stage in my amp?
Anyhow, can't wait to get aquatinted with this old technology. It fascinates me so much.