CNC Hobbyist
VIP Supporter
Joined

Sep 5, 2015
Messages

69
Points

535
A little background of myself, I'm a avid hobbyist in all things CNC. Simply love it! My long term goal is to diy build not only 3d printers but also cnc wood router, cathode tube laser cutter, cnc plasma cutter and a cnc mill. My journey started back in sept 2015 when I bought my first 3d printer, a clone i3 kit from DIYElectronics. Assembled the kit and got the printer up and running fairly quickly.
One of the first successful functional parts I printed was a filament spool holder (sadly it broke a few months ago, but just shows you how durable PLA truly is.)
Also printed a box to hold rifle casings while reloading. This is still in use this to date!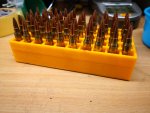 With that being said, boy did I struggle with this printer. I never could get prints running for more than a hour or two and then the extruder would grind the filament to bits because the nozzle would just clog up.I gave up and left the printer stashed in the corner of the room and occasionally tried to tinker with it and getting it to work properly. No luck.
Fast forward to Jan 2017 where I finally pulled the trigger and imported a genuine E3D v6 hotend with a titan extruder. It was very pricey, but wow...what a difference that made. Never had a clogged hotend again!
But the poor little printer is still not perfect, especially the heat bed. Its 12V and takes ages to reach 60-70 deg (could never reach 80 deg). A bit of investigation showed the board has way too high resistance and it simply will never draw the rated current. I even considered a external mosfet to switch 24V to the bed, but that won't help much.
The journey did not end there and I'm not a fan of the cartesian style printers.
Off into the research rabbit hole I went. I decided that a coreXY system sounds great (build plate that moves as little as possible makes sense to me).I decided to venture off and start sourcing parts for a Hypercube Evolution diy printer and printed the parts needed(all in PETG).
Fast forward yet another year (wow time goes by so quickly) I have all the printed parts, mechanical parts, electronics and now only assembly is required.
But wait...that's not the end. I also sourced parts for a second printer. This one is called Voron 2, which uses linear rails and quite an interesting auto leveling procedure. It's also based on Klipper firmware not Marlin and I can't wait to play around with it.
I want to document and share the building process with you guys!
Oh yeah, I also bought a Ender 3 Pro early in jan (esih...CUD)
TLDR; Have a small i3 clone printer that I will upgrade and use to print the ABS parts needed for the two new coreXY style printers I am building. So yeah...I'm documenting my progress here.Stay tuned for updates.
Edit: Added the pic of the casing box. One of my very first prints!
Last edited: