Item: 6-Seater solid imbuia dining room set
Age: No exact idea, but should be around 40 years or so
Price: R7,500, negotiable, for the lot
Payment Method Accepted: Cash or EFT
Warranty: Nope
Packaging: Nope
Condition: Table in good condition, chairs needs attention
Location: Pretoria
Reason: Not being used, taking up space
Shipping: Doubt it'll be worth it, but sure if you want, cost and risk on buyer
Collection: Yebo - bring a bakkie
Link: LOL
Hi guys, so we're selling our main dining room set. This used to belong to my grandparents, which was inherited by my parents and I grew up with it. After that I inherited it and we've been using it in our home for a few years now. However, the chairs need some attention and I simply don't have the time or money to get it fixed up.
When we got it a few years ago we removed the pink upholstery and re-covered the chairs with new material, but since it's been standing around it's gotten VERY dirty (thanks, kids). Some of the chairs have gotten wobbly and I've glued and screwed some of them together effectively, and I believe doing the others will also strengthen them back up. In the meantime though we moved an outside set in, and this set out, so it's currently occupying space we'd like to use for something else.
On the table - when we first got it, I sanded down the top and gave it a coat of clear varnish to help protect it. Over the years it's gotten a scratch or two but overall it's still in great condition. The top is loose, and fixed to the bottom part with blocks that I also have around here somewhere.
The one chair was chewed by a dog when it was in storage (the dog was accidentally locked in the same room and I guess she got hungry). Damage isn't too bad though and people haven't even noticed unless informed of it.
Overall though I'd say the chairs need a new upholstery session, and the woodwork needs attention. It's all solid imbuia though, and that means it's proper, beautiful furniture. I believe it was handmade many many years ago and you can actually even still see some measuring and tool marks when you take off the top, which I think is just awesome.
I have no idea what these things go for, at all, so my price is a quick Google ballpark and quite negotiable.
The table:
One of the chairs:
The dirt:
The dog chew: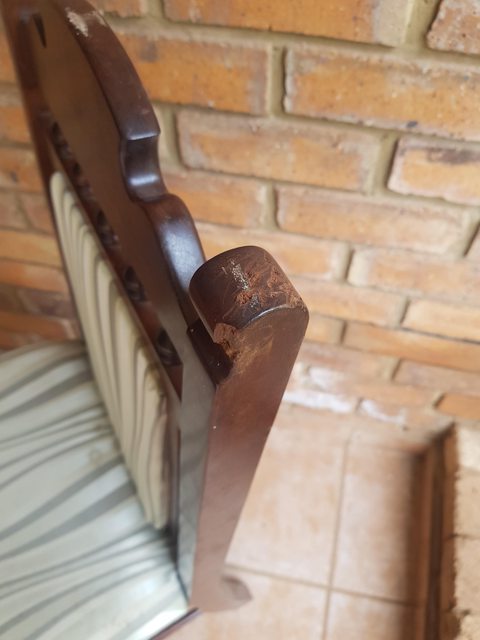 FYI
--------